DICOM MIM comes to iPhone, iPad

Achieving F.D.A. clearance for the Mobile MIM app took nearly two and a half years, Mr. Cain said. One concern was the ambient lighting under which scans might be read when using the app. Studies are usually read on workstations in the low light of reading rooms, Mr. Patel said. But doctors using their cellphones or tablets on the go might find themselves in places that are far brighter than that.
"You might not have the visual acuity you'd need for a crucial diagnosis that you'd have in a reading room," Mr. Patel said.
The F.D.A. worked with the company on a way to mitigate this risk. The solution was software that includes an automatic test for poor lighting -- users must perceive and tap a small rectangle that appears faintly on the screen. "If you can't see the rectangle and touch it, you are in an area that is too bright," Mr. Cain said.
Adjustments like these, Mr. Patel said, will make the devices more usable.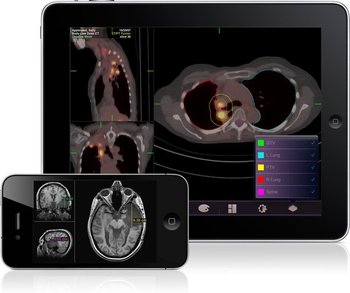 BUSINESS DAY
Those Scan Results Are Just an App Away
By ANNE EISENBERG
Published: October 15, 2011
Businesses are developing apps that let a doctor's iPhone or iPad become a diagnostic medical instrument.