MJ Choi opens up about k hiphop dance
Q: Can you tell us a little about yourself?
A: My name is MJ Choi. I am the director and instructor of I LOVE DANCE. I started dancing late in my life and after a couple of years of dance training, I founded I LOVE DANCE in 2006.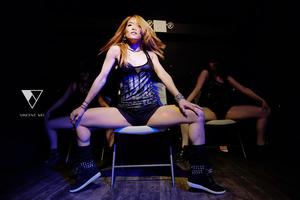 Q: What prompted you to start I Love Dance and teach K-Pop classes?
A: I originally started teaching Hip-Hop classes in NYC in 2006 thinking that I wanted to help beginner to learn how to dance. Back then, K-POP really wasn't as popular as it is now. In fact, I don't think we even used the term K-POP much. When I first started, I had a small group of Korean students who were interested in taking Hip-Hop classes. But as you know, we've had this explosion of K-POP popularity in the past few years. So my classes somewhat naturally transitioned into K-POP Dance as more and more students showed growing interest.
-- Asian in NY's i-love-dance-third-annual-student-showcase-2013.

Although hip hop elements had already been present in some pop artists' work, the introduction of hip hop to Korea would most likely be attributed to the groups of the early 90s; most notably, Seo Taiji & Boys (서태지와 아이들). It is impossible to discuss the history of Korean pop music without Seo Taiji. Before Seo Taiji showed up on the music scene in 1992, Korean pop music was mostly dominated by trot music (bbongjjak), the standard love ballads and candy pop dance music. Rock and other music genres also remained mostly underground.
Seo Taiji, who had been a member of the now legendary rock band Sinawe (시나위) implemented new electronic sounds and break beats to his music, and mixed traditional Korean elements with modern sound. Along with the power break dance moves of the "Boys" Yang Hyun-suk (양현석, familiar known as Yang Gun and currently the CEO of YG Entertainment) and Lee Juno (이주노), they quickly gained huge popularity which puzzled the pop music experts of the time. After four albums and enjoying hysteria level popularity, they suddenly disbanded in 1996.