Lower East Side's south side is quiet
The Lower East Side, whose tenements teemed with immigrants for generations beginning in the 19th century, has in recent years become known north of Delancey Street for crowds of a different sort: the whooping revelers who stream down its streets and cascade from its scores of bars, restaurants and falafel shops on weekends. Indeed, the density of raucous nightspots has earned the nickname Hell Square for the area between East Houston and Delancey from Allen Street east to the Delancey, a club near Clinton Street.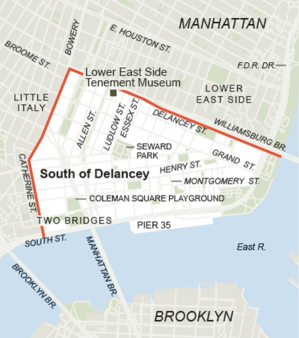 Below Delancey, however, a quieter, more residential atmosphere prevails.
"When you cross south over Delancey you feel your blood pressure go down," said Para Rajparia, a psychologist, who moved into a three-bedroom Grand Street co-op in 2010 with her young family, joining the many other young professionals who have recently put down roots in the area. "I have a sense of safety and comfort."
Although new night-life attractions have begun pushing south down Ludlow Street from Delancey, they do not for the most part extend below Grand, leaving intact, at least for now, a certain low-key authenticity that many residents say they prize.
The neighborhood possesses an ethnic and socioeconomic mix that many residents say feels increasingly rare in Manhattan. A 2007-2011 census survey found some 60,332 people living in the 350-acre area bounded roughly by Delancey Street, the Franklin D. Roosevelt Drive, the Bowery and Catherine Street. Fifty-three percent were Asian, the vast majority Chinese; 22 percent were white; 19 percent Hispanic, mostly Puerto Rican; and 4 percent were African-American. The median annual income was $30,550.
"It's ideal right now because you have the perfect balance," said Philippe Avila, a Paris-born art conservator who has lived since 2000 in a rent-stabilized studio in a Henry Street tenement, for which he pays $1,039 a month. "You still have a certain flavor coming from each community and enriching each other."